2015
Inauguration of the most modern airport of Russia, Pulkovo Airport in St. Petersburg
The reconstruction of Pulkovo airport in St. Petersburg bearing a Greek signature, was completed with the opening of the new terminal. The President of Copelouzos Group, Dimitris Copelouzos, attended the ceremony since Copelouzos Group together with the German company Fraport, which manages and operates, among others, Frankfurt Airport and the Russian VTB Capital, member of VTB Group, one of the largest state banking groups in Russia, they have undertaken since April 2010 and for 30 years, the development, reconstruction and airport's operation. The opening ceremony was held in the presence of the Minister of Transport of the Russian Federation, Maxim Sokolov, the Governor of St. Petersburg, Georgy Poltavchienko, the President of VTB, Andrey Kostin, the President of Fraport AG, Dr. Stefan Schulte and the President of Copelouzos Group, Dimitris Copelouzos.
The project included the construction of a new passenger terminal, the reconstruction of the existing facilities of the airport and the construction of new buildings for commercial use, such as shopping mall, 5 star hotel, parking, etc.
The project total investment of 1.2 billion euro, is one of the largest and most important infrastructure projects in Russia and Europe, as the Pulkovo International Airport is the third largest airport in Russia after Moscow's airports
With the completion of the entire project the airport has the capacity to serve 18 million passengers, annually. In Russia, Pulkovo airport is considered as a development project with major economic value for the region and also for the whole country, since it is aiming to become a major international hub in the Baltic increasing the economic potential of the region. Pulkovo airport meets the highest international standards, promotes newcomers destinations and enhances trade and tourism. At the same time, it strengthens the workforce in the region since 3.000 work positions have been maintained and 1.000 additional new jobs have been created.
The President of Copelouzos Group and CEO of Horizon AirInvestment, Dimitris Copelouzos stated: "The present day marks the completion of the development and modernization of the first phase of the new Pulkovo airport in St. Petersburg. The new,modern and high-level airport is α gateway worthy of the needs and the cultural heritage of St. Petersburg. Pulkovo will contribute to the economic development of the region and constitutes the culmination of the excellent cooperation between the three companies that undertook its implementation".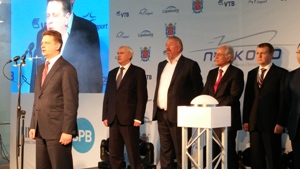 Back to all news