2009
The President of Copelouzos Group, Mr. Dimitris Ch. Copelouzos was awarded a prize by the Athens Chamber of Commerce and Industry (ACCI)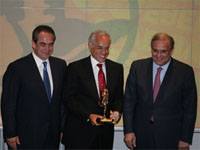 The 14th annual ceremony for the award of the ACCI prizes to companies and businessmen that presented remarkable business activity during the past year, took place on June 16th, 2009.
A significant number of politicians and businessmen attended the ceremony.
The Minister of Economy and Finance Mr. Ioannis Papathanassiou and the Chairman of ACCI, Mr. Konstantinos Michalos addressed the attendees.
The President of COPELOUZOS GROUP, Mr. Dimitris Ch. Copelouzos was awarded the prize of the "Self-made Businessman".
Twelve more companies and businessmen, covering a wide spectrum of business activities, were also awarded prizes during the ceremony.
Back to all news